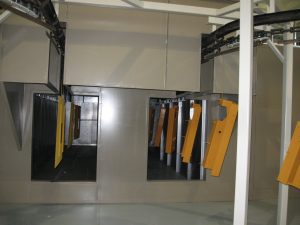 High-temperature powder coating allows Watson Coatings to specialize in expert powdercoating application.  Powder coating is available in custom colors, textures, and finishes. Furthermore, this adds superior corrosion protection, chip resistance, and aesthetic quality. This applies to even the roughest handled parts and equipment. Most of all the powder coating process allow the surfaces more durability with a protective layer of coating because the finish is baked on.
Automotive, military, construction equipment and the like, stored or used outdoors benefit from powerful, and versatile powder coated applications. Powder coating creates an attractive, resilient finish which will withstand rigorous outdoor and working conditions.
Powder Coating and finishing are essential for commercial and industrial businesses. Watson Coatings' high-performance powder coat systems that have passed independent lab tests. Also, quality testing exceeds Ford, General Motors, Caterpillar and other OEM's strict powder coating quality specifications.
The equipment manufacturer of Watson's paint system is a worldwide leader in Powder Coating Technology and color change solutions. With more than 40 years' experience in powder coating, innovative solutions, and advanced technologies makes Gema the expert for powder coating needs. Watson Coatings offers customers the confidence and expertise that comes with using equipment from an industry leading manufacturing company in Powder Coating solutions.
Five Stage Powdercoating Operations –
[ ADD POWDER COATING VIDEO ]
PAINTING SYSTEM
Watson Coatings powder coating facility is a 20,000 sq. ft building located in southeast Michigan. Furthermore, the facility includes an environmental room, vacuum cleaning system, burn-off oven, x-458 4″ I-beam conveyor system. Also, in the system are PLC base central electrical control panel. Furthermore, the powder application room system, air make-up system, Elco Meter, and ph meter. As well as, Elco cross cut test and ITW Gema automatic paint guns.
Equipment from Gema is durable, flexible and engineered to last, providing increased performance, greater efficiency, and a better return on investment. Gema sets the industry standard for powder coating technology, developing the finest powder-coating equipment available.
---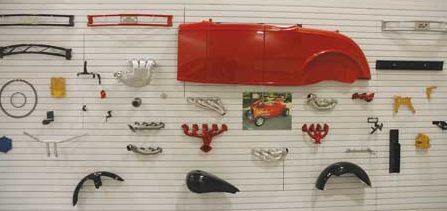 HIGH VOLUME PRODUCTION CAPABILITIES
Powder Coated paint services are available for high volume production.
The powder coated metal parts display is a brief overview of a small variety of parts. Displaying a few colors, and finishes powder coated through the years.