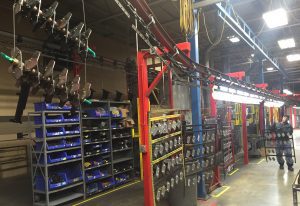 Watson Coatings offers expert powder coating services for extremely durable metal part finishing. Powder Coating is an environmentally friendly finishing solution. Because powders contain no harmful chemicals and are pollution-free, there is no need for pollution control.
Application aids in savings not only to the environment, and the handlers but also in reducing overall painting costs. The vortex system allows for a 99% paint reclaim on over spray. So, there is almost no waste in comparison to liquid/wet toxic paint. Therefore, powder coating allows Watson Coatings the ability to offer the longest lasting finishing solution with greater savings!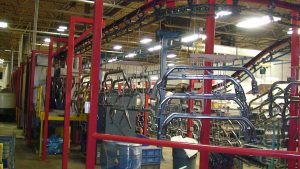 The powder coating facility spans 20,000 square feet in size. Most noteworthy is that the fully automated conveyor system. The fully automated paint lines are capable of efficiently processing single pieces to high volume production runs. Particularly relevant is that the automated paint line spans across the entire facility for the multiple processes.  Metal part powder coating process includes; loading, cleaning, cooling, drying, painting, curing, cooling, inspecting and unloading.  Watson Coatings system includes a 5-stage pre-treatment washer, dry-off oven, powder booths, six paint gun robots, cure oven, as well as, ample space for cool down periods between processes.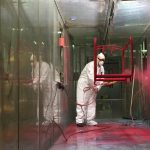 From loading to unloading, the processing time on powder coated parts is relatively minimal.
Complete processing of parts is within an hour and a half and can be put to use immediately.
In addition, Watson Coatings has manual powder coating booths. Single or low volume production and large parts benefit from the manual powder coating spray booths. Also, the powder coating booths serve short runs of different colors. Therefore, the manual process avoids costs of changing colors or shutting down the current production line.

Because heating and cooling management specialist, the spray booth is temperature controlled.  Also, equipped with ventilation to help achieve a perfect finish surface.
Five stage pre-treatment (iron phosphate) powder coating system
PAINTING OPERATION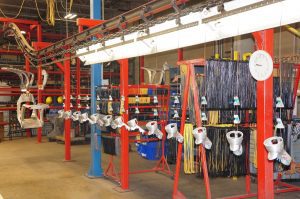 Watson Coatings has a 5-stage pre-treatment system which also includes an environmental room, vacuum cleaning system, burn-off oven, x-458 4″ I-beam conveyor system. Additional features include, PLC base central electrical control panel, powder application area/system, make-up air system, Elco Meter, ph meter, Elco cross cut test and ITW Gema automatic paint guns.
There are many components of Watson Coatings powder coating conveyor system.
First of all, the process begins with hanging the parts on the conveyor line. The loaded parts move up to the 5-stage pre-treatment (iron phosphate) high-temperature washer system. This process is used to remove any and all contaminants.
Secondly, the pieces go into the dry-off oven, followed by a cooling down period. The parts go into the powder booth area for finishing by six automated robot paint guns or manual powder coating application. Once the pieces are coated, they go into the high-temperature ovens for the paint to be cured. After the curing process, parts go into a cooling down cycle. After, parts get inspected for any special needs, such as unplugging or unmasking. Then the finished parts are quality checked. Before they continue down the line for removal. Finally, the parts are unloaded and placed in the appropriate shipping containers to return to the customer.
---
FULLY AUTOMATED PAINT LINES CAPABLE OF EFFICIENTLY PROCESSING SINGLE PIECES TO HIGH VOLUME 
---
Why Choose our Expert Powder Coating?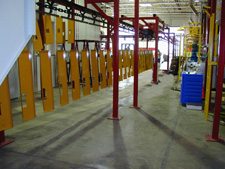 * Surfaces of products are more resistant to chipping, corrosion, scratching, fading, and wearing, than other finishes.
* Colors stay bright and vibrant longer.
* The color selection is virtually limitless. Metal part finishes with high and low gloss, and clear with a wide variety of textures available.
* Watson Coatings' high-performance powder coat system has passed stringent independent lab tests and exceeds that of some of the top suppliers such as; Ford, General Motors, Caterpillar and other OEM's strict specifications.
Automated system provides greater productivity, higher repeat-ability, and cost savings in the overall process.
---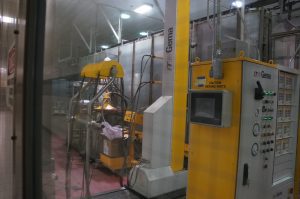 Watson Coatings chose an equipment manufacturer that is a pioneer in the Powder Coating Technology. As well as, Color Change Solutions.
Watson Coatings offers its customers the confidence and expertise that comes with using equipment from the industry's global leader.
Equipment from Gema rated durable, flexible and engineered to last. Also, Equipment provides increased performance, greater efficiency, and a better return on investment. Furthermore, Gema sets the industry standard for powder coating technology.
---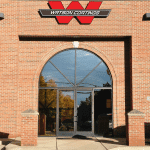 Watson Coatings offers a 20,000 sq. ft. Powder Coating facility in Southeast Michigan.
The team strives to be your Michigan Powder Coating Source.
Serving – Detroit, Flint, Saginaw, Grand Rapids, Ann Arbor, and throughout the entire Detroit Metropolitan area.